Bridgend, South Wales, 7th June 2022: PharmaFlow, a 21st century consultancy in biopharmaceutical value-chains, is pleased to announce that founder and managing director, Hedley Rees, has published his latest book "TAMING THE BIG PHARMA MONSTER: By Speaking Truth to Power"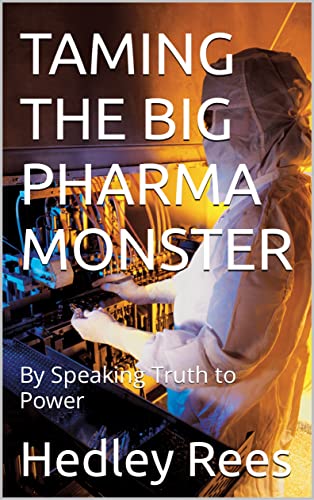 The description begins:
Hedley Rees' forty years' experience in the pharma industry has led to this exposé of an industry in denial. Uncompromising on facts and evidence, Taming The Big Pharma Monster stands out in a sea of books trying to skewer Big Pharma because it offers a practical solution. The author's experience is vast. He entered the pharma industry in 1980. Hedley Rees is not focused purely on problems but on exploring the solutions.
The pharmaceutical industry is in meltdown…read more
This is the Preface to the updated version:
Taming the Big Pharma Monster first published 28th May, 2019. I wrote it as a companion book to a conference my company, PharmaFlow, hosted 8th May 2019, in Techniquest, Cardiff Bay. The conference was titled Medicines for the 21st Century: Safe, Better, Cheaper, described below:

On May 8th, 2019, a group of clinicians, patients, representatives of relevant charities, experts in product development, legal, regulatory and supply chain specialists gathered together in Wales for a conference based on facts and evidence.

Following the conference, I took all the contributions and wrote them up in a white paper. The paper went to the House of Commons Health and Social Care Committee (HSCCOM), Chaired by Jeremy Hunt MP at the time. Receipt has been acknowledged both by the Chair and the Committee Secretariat. Unsurprisingly, I've heard nothing since, as the world was about to change forever. COVID-19 was poised to strike, and the intervening years have taken a punishing toll on society.

A new breed of individual, identifying as a critical thinker, or medical freedom fighter, emerged from the fall-out. These individuals have been the spur for me to publish a second version, which includes an additional chapter titled, yes, you guessed it: Medicines for the 21st Century: Safe, Better, Cheaper. The chapter recounts the conclusions and recommendations that were included in the white paper for cross-party consideration.

It has always been my opinion that only politicians have the power and authority to change Big Pharma from the monster it has become. Hopefully, you will understand why, if you stay with us to the end.
Hedley Rees commented "careful use of smoke and mirrors by the pharmaceutical industry has prevented the public from knowing what really goes on INSIDE PHARMA. This book aims to put the record straight"
ENDS