Welcome to our Author section. Hedley Rees has been actively building, managing, and continuously improving supply chains in biotech for the last fifteen years.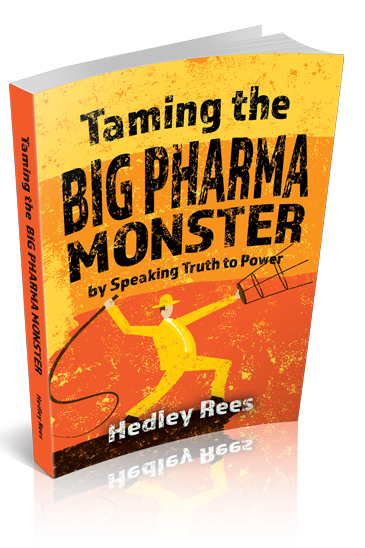 Books
TAMING THE BIG PHARMA MONSTER: by Speaking Truth to Power
A resource for those wanting to learn what's going wrong in BIG PHARMA – and how to fix it.
Taming the BIG PHARMA MONSTER by Speaking Truth to Power will let you into all the inner secrets of the pharma industry and arm you with powerful knowledge and education to help administer the fix.
This easy-to-read, 146-page journey through over 40 years of systems decline will set your mind on fire, as you'll suddenly realise you don't have to roll over and accept things as they are today. There is a better way and you will learn about it. More importantly, you can start to become part of the solution, rather than just someone with a problem.
Read More Information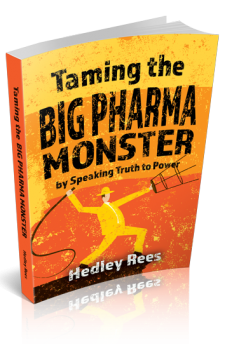 £6.99 (Usually £14.99) Taming the BIG PHARMA MONSTER: by speaking truth to power
Book Extracts
Extract 1
ADDICTIVE GAMBLER IN DENIAL

There's no way to soften the blows in this chapter, as the evidence will be stark, substantial, and downright frightening at times. It is in reaction to that fright that we call on pharmacos to wake up to the errors of the past and opportunities of the future.

Addiction experts will tell us that the first step in any journey of reform and re-invention is to admit there's a problem, and that radical change is not only necessary – it is a matter of survival, a life or death opportunity.

This is the point at which we take stock on behalf of the addict, performing a state of the nation review of the medicines industry, and defining the scale of the task ahead.

Through the book, we will draw on wisdom wrapped up in songs, films and giants of the industrial world. The country music icon Kenny Rogers has his say here. Fans of Kenny will be familiar with the lyrics from his classic song 'The Gambler':

"On a warm summer's eve
On a train bound for nowhere
I met up with the gambler
We were both too tired to sleep

So we took turns a-starin'
Out the window at the darkness
The boredom overtook us,
And he began to speak."

Before listening to the man's words, please take a moment to consider that here we have, metaphorically, pharma company leadership and investors 'staring at the darkness', wondering which way to turn, and there's a ton of evidence lending weight to the predicament faced. We will be covering more on this topic soon, but for now, we can summarise one crucial aspect which has been dubbed 'Eroom's law'.

It states: "the number of new drugs approved per billion US dollars spent on R&D has halved roughly every 9 years since 1950, falling around 80-fold in inflation-adjusted terms".

Time to break out the whiskey and continue….

"He said, "Son, I've made a life
Out of readin' people's faces,
Knowin' what the cards were
By the way they held their eyes

So if you don't mind me sayin'
I can see you're out of aces,
For a taste of your whiskey
I'll give you some advice."

Pharma executives are indeed out of aces. In fact, it seems they are mightily short of Kings, Queens and Jacks too!

Let's now return to the story as the whiskey, metaphorically, changes hands:

"So, I handed him my bottle
And he drank down my last swallow
Then he bummed a cigarette
And asked me for a light

And the night got deathly quiet
And his face lost all expression
He said, "If you're gonna play the game, boy,
You gotta learn to play it right.

You've got to know when to hold 'em,
Know when to fold 'em,
Know when to walk away
And know when to run

You never count your money
When you're sittin' at the table,
There'll be time enough for countin'
When the dealin's done."
There is a massive lesson here. Although poker is gambling, it is also a game of skill and ingenuity. It requires years of practice and application to eventually learn how to beat the odds.

Over the last 40+ years, the medicines industry has changed the game fundamentally, from its being akin to poker into a game of roulette, fast approaching the Russian variety. It has taken to gambling on molecular compounds with a patent behind them, in the hope they strike lucky. It has become a game of numbers. The impact has been nuclear."
Extract 2
INSULIN HEROES, SUBSUMED BY DUNCES

In 1921, on a shoestring budget at the University of Toronto, several young scientists began investigating a possible treatment for Type 1 diabetes. They found that by grinding up and purifying animal pancreases, and then regularly injecting the material, they could treat Type 1 diabetes in dogs… By 1923, the scientists had won the Nobel prize and the treatment had entered mass production in collaboration with Eli Lilly and Company and the Swedish organisation Nordisk. The scientists patented the drug and sold it to the University of Toronto for three dollars (one dollar for each researcher), thinking that this was the best way to ensure that affordable treatment would be available to everyone who needed it.

With a fast forward to the future, fast-acting 'analog' insulins were pioneered with Lilly's Humalog in 1996, but when Novo Nordisk entered the market four years later with its own analog insulin, NovoLog, prices did not decrease due to competition. Instead, Lilly and Nordisk followed each other closely in an exponential price increase. When Humalog was first introduced, it cost $21. At the time of writing, HumaLog costs [$295.35] per vial and NovoLog costs [$296.27].

The HPR article: 'How insulin became unaffordable' recounted the tragic case of Alec Raeshawn Smith, whose body stopped producing insulin when he was 24 – he had become a Type 1 diabetic. The article goes on: "For two years, Smith managed his condition relatively well. But it wasn't easy financially. On May 20, 2017, Smith turned 26, ageing out of his parents' insurance." He didn't qualify for government assistance with his insulin payments, and when he went to pick up his insulin in early June, the bill was over $1300 without insurance. He couldn't afford the medicine that day and decided to ration his remaining insulin until he was paid. He didn't tell his family.

On June 25, Smith went to dinner with his girlfriend, where he complained about stomach pains. It was the last time anyone saw him alive. He called in sick to work the next day. On June 27, Smith was found dead in his apartment. RIP Alec Raeshawn Smith: our hearts go out to his mother, Nicole Smith-Holt, his family, and all those who knew and loved him.

Impossible not to shed a tear over this sickening tragedy, nor wonder how the executive boards within those companies sleep at night.

Socio-technical systems can be cruel and heartless."